Adrien Brody, Keira Knightley, Kris Kristofferson & Jennifer Jason Leigh
Directed by John Maybury

From Hollywood Video: "An institutionalized Gulf War veteran who serves as a guinea pig for experimental drugs becomes convinced that he can foresee his death."

Instant comparisons to the incomparably strange Jacob's Ladder... and then not. It was peculiar, interesting, and a little freaky, but nothing along the lines of Tim Robbins watching Elizabeth Peña do a naughty dance with a devil's tail. Instead, the strangest thing was Jackie (Knightley) having sex with Jack (Brody) when Jack had died 14 years before. But he wasn't dead. He was just visiting while wrapped up in a straight jacket and doped up on anti-aggression drugs. The time-travel bits, if considered too deeply, are full of possible inconsistencies, which becomes the case with the majority of time-travel movies. Except in this one, the characters seem too willing to believe the information he brings "from the future." A little doubt and hesitation, please, people. After all, the guy is locked in a psych ward.

But it doesn't matter. I spent most of the time trying to decide if Adrien Brody is attractive or not. I think so. In certain lights he's breath-taking.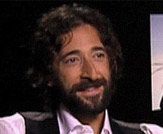 In others, he kinda looks like a bird.



The ending was bizarre in that it was uplifting, as if Jack's mistaken, bad-luck life had some joy (and good quality sex) and purpose after all, even while he was strapped in a straight jacket and locked in a morgue drawer. Silver linings and all. Keira Knightley's accent was an interesting attempt at a sultry drug-laced northeastern American (and Daniel Craig played a very nifty psychotic with another faux American accent, well done). But I still think Knightley is Winona Ryder's little sister: